For our food packaging machines, we have a number of them coming from different solutions such as sealing, drop packing, bottom
loading, and semi-automatic case forming. These packaging machines are as follows;
WeighPack's SleekWrapper 65
Eagle Drop Packing System for Containers and Jugs
Eagle Drop Packing System for Bags
Boxxer All-In-One Case Packing System Bottom Load
EZ PAK Semi-Automatic Case Packing Station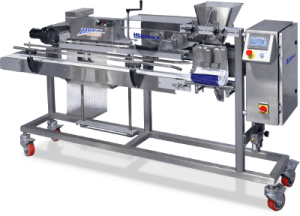 SleekWrapper65
First of all, is the robust SleekWrapper65 coming  all the  way  from our partner, WeighPack Systems. A servo-driven horizontal  wrapping machine offers reliability, simplicity, and serviceability to its users.
It is capable of producing as many as 200 packages in just a minute given a maximum web width of 25.6 inches.
The Sleek 65 is constructed with 5 servo motors allowing a quick and easy changeover and adjustment. Ensuring the accurate positioning, smooth acceleration to deceleration.
Drop Packing System
We also have our drop packing system that is designed to collate and drop pack containers and jugs into ship-ready cases.
This automatic drop packing system is known to maximize overall production, reduce manual labor, and improve efficiency all at once.
Third, is the drop packing system for bags that can be integrated with any horizontal or vertical bagging machine. This automatic case
loading system functions by collating and drop packing bags into ship-ready cases.
Similar to the first drop packing system, this one is also designed to maximize overall production. While reducing  labor costs and improving efficiency.
Our two drop packing systems have standard features including a color touchscreen, lane diverter, accurate drop gate grid, interlocked
doors, nema 4 enclosures, and SMC pneumatic components.
Boxxer All-In-One
Furthermore, is the Boxxer All-In-One case loading solutions that will erect, form, load  and seal fragile  products. They are in need of careful handling and loading  into corrugated cases.  These products  include  delicate  baked  products, heavy cartons, containers with liquid and more.
In addition, our bottom loading All-In-One packing system is designed  to meet specific production requirements  runs on  a wide variety of products. Moreover, allowing a significant it increase in production all the  while reducing hand  labor costs.
EZ PAK Semi-Automatic Case Packing Station
Finally, but absolutely not the least, is the EZ PAK Semi-Automatic Case Packing Station. It will  automatically fold the bottom major and minor flaps of an erected case while you load it manually.
Moreover, to optimize its usage, simply add the EZ-Tape Bottom and Top sealer. And your product will come out in a form of a
ship-ready box.