At Eagle PM, we manufacture packaging solutions for case erecting, tray forming, and robotic palletizing technology. First off, we offer a variety of products that include the capability of forming and sealing corrugated trays and cases with glue, tape or thru self-locking. Our packing sealer materials are the glue and tape. For the glue, we refer it to as the EZ-glue. Moreover, EZ-Glue is utilized by the heavy-duty horizontal wrapping machine, SleekWrapper 65 that comes from the SleekWrapper company.
SleekWrapper 65 Packing System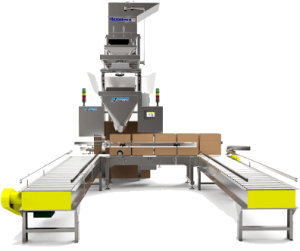 First of all, the SleekWrapper 65 is a servo-driven machine designed to offer reliability, simplicity, and serviceability towards its users. It is capable of producing as many as 200 packages per minute with a maximum web width of 25.6″ or 650m. It is even built for 24/7 operation. This horizontal wrapping machine has 5 servo motors that make changeover and machine adjustment seamless and easy. What's more, it is proven to lessen product and film waste during production and lower the overall maintenance cost. Most noteworthy, the product's positioning is measured with precise accuracy and gives smooth acceleration and deceleration.
EZ-Tape Case Sealer
Our next packing sealer is none other than the EZ-tape. The EZ-tape case sealers can work on its own without any main machine. As a result, it can also run as a part of a complete production line. Our EZ-tape case sealers are easy to use and adjustments are a breeze. We have two model categories, the semi-automatic and automatic case sealer. Both are adept in taping
the bottom and/or the top of the case. Since it is an automated case sealer machine, the front, back, and side flaps will be automatically folded along with the taping of the bottom and top of the case.
Built with a hardcore side-belt drive, your cases are ensured to be sealed tightly and securely without any worries or imperfections.
It also has casters and makes use of 120 VAC. Its dual masts are there to stabilize the entire sealing process. Size changeover is simple and easy, consequently, the height of the entire unit can be adjusted. In conclusion, the EZ-tape case sealers are equipped with features such as the tool-less heads that provides precise and steady sealing, and removable tape cartridges.