KARTNR VERTICAL CARTONING MACHINE
The Boxxer Kartnr V-Series automatic carton forming machine is engineered to vertically form a chipboard carton, insert the container and then close the carton. These compact machines can be easily adjusted for multiple products and feature a heavy-duty steel frame, programmable logic controller and a color touchscreen. A robotic loading option is available for inserting tall or oddly-shaped products into cartons.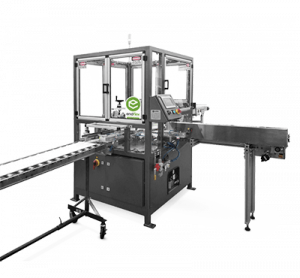 Compact and easy to use the Kartnr can produce up to 60 cartons per minute and is available in two models:
Hand load – the vertical cartoning machine will automatically open and present the carton to the fill zone for hand-loading product into the carton. Once loaded, the top lid can either be left opened or automatically shut.
Automatic – an in-feed conveyance system is added to automatically accumulate product and fill the carton, eliminating the need for human interaction.
The V-Series can be designed to form and then auto-lock, glue or tuck your cartons.
Watch our videos below and then reach out to get started.
Prefer to call us?
(8:30 am to 5 pm EST, Monday – Friday)