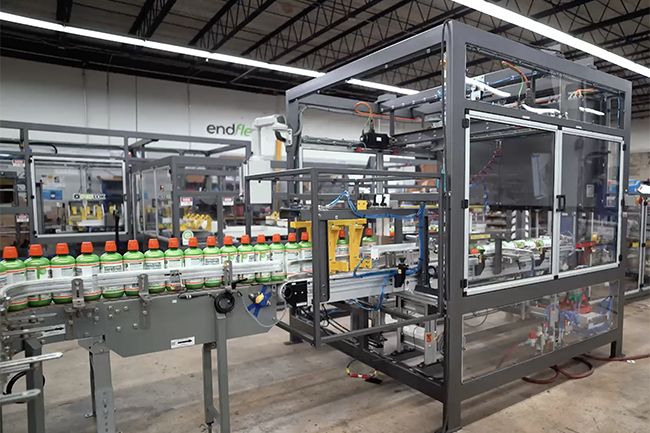 End-of-line packaging machines are often overlooked when it comes to automated packaging systems. The need to accurately get the product into its primary packaging becomes the focus of many operators without much thought about how end-of-line automation can help them improve their display and shipping processes.
That doesn't make sense when so much labor is expended after the primary packaging stage to ensure the final product is safe and secure for shipping and when so many sales can hinge on the retail display presentation
We were very happy that the client we partnered with on the amazing bottle packaging system highlighted below agreed with us. Engineered to pack their bottled personal hygiene product, this highly customized end-of-line system was conceived, designed and built in an astonishing 20 weeks.
The configuration of this system centered around the client's unique bottle shape, existing tray and case dimensions and specific daily production goals. Once we knew their unique characteristics, we knew we would need an equally unique solution.
We started by tray forming and sealing two lines of trays at once using our Poplok dual tray former. We designed a conveyance system to pass the open trays over to our TrayPacker modular pick & place cell at the same time another conveyor is feeding their bottled product into a position to be tipped, grouped and placed into the open tray by the TrayPacker. The trays are then closed and sealed with glue using our EZGlue tray sealer and moved downstream to our Boxxer all-in-one system for the case forming, case packing and case sealing functions. In the final step, the cases are conveyed to our Z.Zag robotic palletizer where they are precisely stacked on pallets and readied for shipping. At the client's request, we also programmed the robotic palletizer to remove cases from pallets when needed.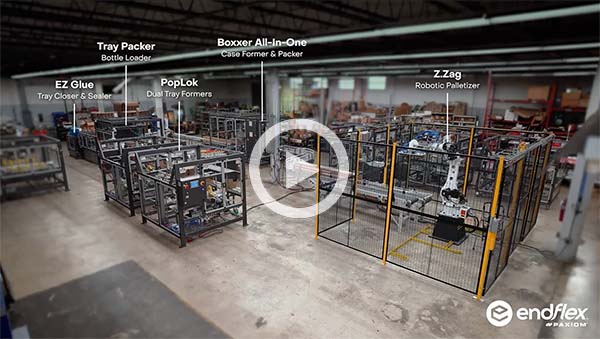 We can customize precise end-of-line solutions like this to meet almost any production need. As one of our clients said to us about their EndFlex project, "you found a solution for our product packaging needs after everyone else said it couldn't be done."
Watch real-life videos of all our solutions in our VIDEO LIBRARY. And when you're ready to get started on your project, CONTACT US.