The semi automatic case packers combines case erecting, hand packing and tape sealing into a compact and efficient work cell.
This ergonomically designed manual case packing cell features an automatic indexing system that positions cases and product for optimal operator comfort, minimizing repetitive wrist and arm motions.
Variable speed product infeed and on-demand case presentation combined with available 1, 2, 3, or 4-operator stations provide ultimate flexibility.
A large variety of product sizes, shapes, weights, and materials can be quickly and easily packed in a large range of case sizes.
Be more efficient with the flexible BoxxPak case packing system!
Stop the chaotic and inefficient case packing process from a rotary turn table and use the BoxxPak to:
1. Increase production rates
2. Reduce human loading errors
3. Streamline your packaging process
4. Improve operator satisfaction while reducing stress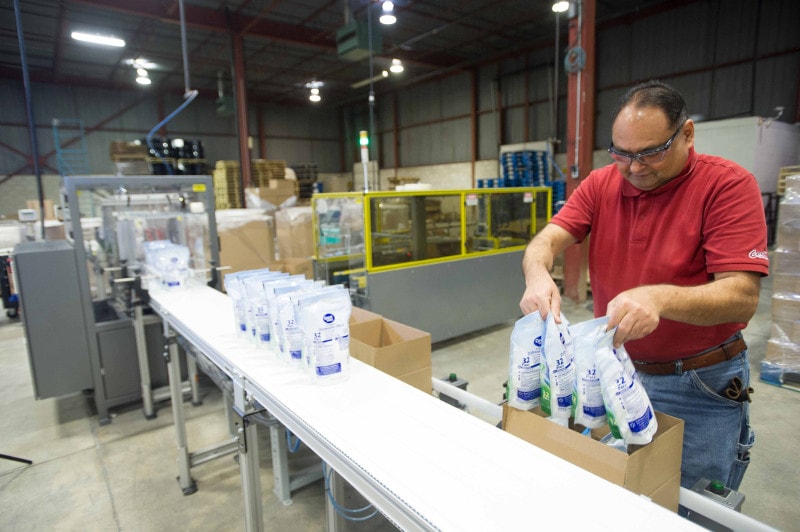 Be more efficient with the flexible BoxxPak case packing system!
Stop the chaotic and inefficient case packing process from a rotary turn table and use the BoxxPak to:
1. Increase production rates
2. Reduce human loading errors
3. Streamline your packaging process
4. Improve operator satisfaction while reducing stress
How it works:
1.Automatically erect and form a corrugated case or tray
2. Convey incoming bags, pouches, cartons, containers, jugs, boxes or widgets to the staging area
3. Once product is staged, the operator will conveniently transfer the product from the conveyor into the case or tray
4. Once the incoming product is loaded per your pack pattern, the case will then be transferred to the sealing station and the process will be repeated
5. The top flaps of the corrugated case will be folded
6. Folded case flaps will then either be glued or taped
7. Voila! An automatically case packed finished product is ready to ship to your customer