We specialize in end-of-line packaging solutions. We have an extensive history of building machines that add efficiency beyond primary packaging equipment, so our clients become even more efficient and productive.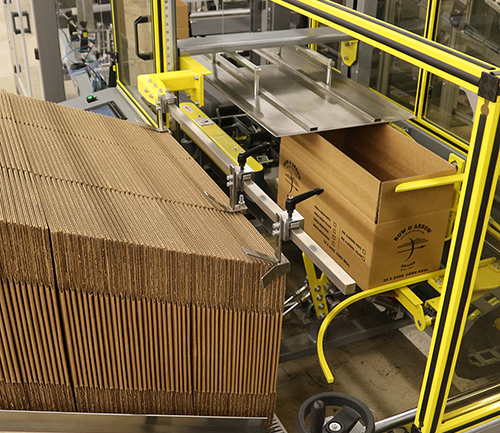 Our case erectors, tray formers, cartoners, case packers, sealers and palletizers are customized for your specific product. We engineer them to not only flow seamlessly from one to another but also be a seamless addition to your primary bagging, container filling or wrapping system.
We've served customers in almost every industry from food to pharmaceutical and furniture to electronics. We know how to help companies scale their operations for new product launches and increased demand. But we've also helped many companies to add automation where they didn't have it before with equipment they may not have considered.
We can help you too. It doesn't matter if your primary packaging is manual, semiautomatic or fully automated, we build the end-of-line solutions that will take your packaged product through the final steps to make it retail-ready and get it prepped for shipping.
Whatever stage your business is in, make sure you consider the many advantages of a fully automated downstream system to take your operation to the next level.
The System Downstream
We know how important it is to get your product portioned, filled, bagged or wrapped in those primary packaging stages. Those first steps are huge, and we get that. But how do you manage the next steps in the process once you have your product in the package?
When you add the right combination of downstream equipment and move to a fully automated end-of-line system, you further reduce your operating costs by freeing up manpower, ensuring proper case counts and prepping more product ready to be shipped out quicker.
Let's say you produce powdered sugar. What do you do after you get that sugar weighed and filled into your bags? Are you manually packing those bags into cases that you manually erected, manually taped and then manually closed and sealed? Are you then manually affixing labels and stacking them by hand onto pallets?
How great would it be to never touch those bags after they are filled and sealed? We can automate the whole downstream process by customizing a case erector to your specifications and then building a system to convey your bags to a case packer followed by a case sealer, labeler and palletizer. All you do from there is place your shipping label on the pallet and load it onto the truck. The resource savings would be substantial, and the ROI quick.

And if you happen to place your bag into a carton before it goes into the case, then we've got you covered there too. We can easily integrate a vertical cartoner into the line and then pick & place those cartons into your cases prior to sealing, labeling and palletizing.
Really?
Yep, it's what we do. We help automate the end-of-line packaging processes that most people overlook. We can set up a turnkey system for just about any packaged product, budget and production rate requirement.
Browse our comprehensive machine lineup and let's talk about freeing up your labor resources, decreasing your product waste and increasing your retail-ready product output.
Reach out today. Better yet, visit one of our Xperience Centers to see our solutions in action.