Case Erector Machine come the Boxxer product line  that. All are  engineered to meet  the production requirements  of our customers. These case erector machines are as follows;
Boxxer 2200 Series Case Erector
Boxxer 4000 Series Case Erector
Boxxer Auto-Lock Case Erector
Boxxer T-Series Automatic Case Erector with Tape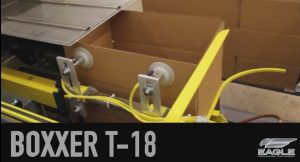 Boxxer 2200
First off, is the Boxxer 2200 that is designed to take RSC or HSC knocked-down  blanks from the  bottom of the  hopper. The blanks will  be transferred to the sealing station where they will be squarely erected. After which, the minor flaps will be glued by melted glue
while the major flaps are being plowed down. The process continues in the compression section where two rams will compress the
flap in order to set the glue.
Finally, the finished case is discharged from the machine. This case erector machine includes standard features like a color
touchscreen, easy load blank magazine, Nordson glue system, interlocked doors, Nema 4 enclosures and pneumatic components.
Boxxer 4000
Second is the Boxxer 4000 that is designed to take HSC or RSC blanks from the hopper and erect them using  vacuum cups. Next step will be to move the erected case 90 degrees along the glue guns that will apply glue to the minor flaps of the case.
After the glue application, the major flaps will be then compressed. The process finishes off with the discharge of the case once the
sealing portion is done.
Moreover ,its standard feature include a color touchscreen,  easy load blank magazine, Nordson glue  system,  interlocked  doors, Nema 4 enclosures and pneumatic components.
Boxxer Auto-Lock
Third is the Boxxer Auto-Lock that is built  to load knockdown blanks into the hopper.  It follows with  the  knockdown being pulled one after the other from the loading station and then erected. Once erected, the major and minor flaps
will be folded, loaded and deposited into a conveyor.
Lastly, the machines will be seen discharging the finished output in an orderly manner. Our auto-lock case erector  machine has standard  features such as  welded  steel frame, Omron PLC, Venturi vacuum technology,  a color  touchscreen,  quick changeover, and auto-idler.
Boxxer T-series
Lastly, we have the Boxxer T-series that is designed to load RSC  and HSC blanks, pull them one by one from  the hopper, erect the case, then finally sealing it with tape, ready for discharge.
Moreover, our T-series are  equipped  with  easy  load  blank magazine and tool-less  removable tape head  allowing easy access to parts  when cleaning  and  maintaining.  These case erector machines are available in three models.
T 12– maximum of 12 cycles per minute
T 18– maximum of 18 cycles per minute
T XL– maximum of 8 cycles per minute