Eagle Packaging Machinery offers a wide selection of box packing solutions. Out of our many case erectors, sealing machine,
packing systems, loading systems, we have five packaging box machines, and these are the following;
Eagle Drop Packing System for Container & Jugs
Eagle Drop Packing System for Bags
BoxxPak Hand Packing System
BoxxPak Loose Fill Case Packing System
Boxxer All-In-One Case Packer System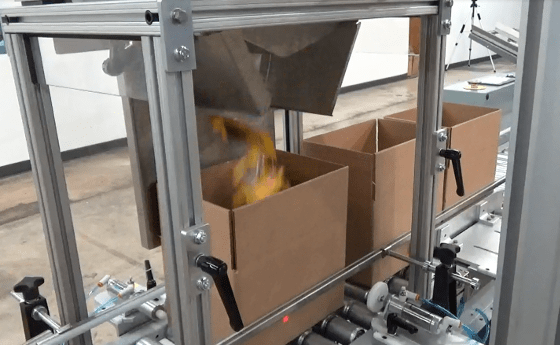 Our drop packing systems are all engineered  to drop pack  and load boxes, jugs, containers, bags, cartons, and more. We have two kinds of drop packing systems. One for containers and jugs and
the other for bags.
Drop Packing System for Containers and Bags
Eagle's Drop Packing System for Containers and Bags operate by collating containers and jugs. Drop pack them into ship-ready cases all the while  improving productivity and reducing  manual labor.  Its user features  are  color touchscreen, lane diverter,  accurate drop gate grid, interlocked doors,  Nema 4 enclosures, and pneumatic  components.
In addition, we have the Drop Packing System for Bags that will collate and drop back bags into ship-ready cases. It is also capable of interfacing with a horizontal or vertical bagger. Its user features are color touchscreen, smart conveyor,
pouch orientator, interlocked doors, Nema 4 enclosures and pneumatic components.
BoxxPak Hand Packing System
Moving forward, we have the BoxxPak Hand Packing System that combines case erecting, hand pack stations, and case sealing
into a compact and efficient work-cell. It is engineered to automatically position  cases and boxes  through its automatic indexing system. With BoxxPak Hand Packing System, cases, boxes, cartons, etc. are automatically erected and
neatly discharged for hand packing.
Furthermore, this system is also ergonomically designed in such a way  that its operator(s)  will have less  repetitive  wrist and arm motions to optimize his comfort level.  It is also capable  of accommodating up  to 4 operators  to help maximize your production rates.
Third is the BoxxPak Loose Fill Case Packing System that includes case erecting, automatic product loading, and case sealing
solutions into one compact and efficient workstation. The process starts with the product entering into the system and continues with
the counting, staging and dispensing of individual packages. After this, cases are erected, discharged and transferred to the filling station.
Finally, the process picks up with the boxes being filled and then conveyed to the case sealing station.
In addition, for the our fifth packaging box machine, we have the Boxxer All-In-One Case Packer System designed to  erect a case, stage the product,  pick and place.The product into the case,  and seal the top and  bottom  of the box with glue  or tape. It is a servo-driven system will  offer consistency, quality  and higher throughputs.  This case packer  system will reduce your  labor costs since  manual packing stations are no longer necessary.